Everyone dreams of success, so why do so few realise it?
Everyone dreams of success. What that success looks like will differ from person to person and from business to business. But I can guarantee you, everyone dreams of success. 
Sadly though, a large percentage of us won't realise those dreams simply because we fail to understand the difference between dreams and goals.  
So what is the difference between a dream and a goal?
Dreams are something you create in your mind. They can be about anything or anyone and can change from day to day. The thing with dreams, though, is that they are transient. They come and go, they fade over time or disappear altogether when another one pops into your head. 
By contrast, goals are based on taking action. They guide and drive us towards success, plotting our path via a series of milestones, all focused on achieving the end goal. Goals are dreams made real. 
However, knowing the first step to taking action can elude most of us.  
For me, this first step involves solving a simple formula:
Be x Do = Have 
So, 
What do you need to BE, and 
What do you need to DO
To HAVE what you dream of?
What does this formula mean?
To understand the formula and how it can positively impact your chances of success, let's start with the end in mind (as I always encourage my clients to do when thinking about their business goals and growth strategies). Let's look at HAVE. 
Which is also the easiest part of the equation, coincidentally. 
And to help us work through this formula, I would like to introduce small business owner Jake, a man of many dreams and goals.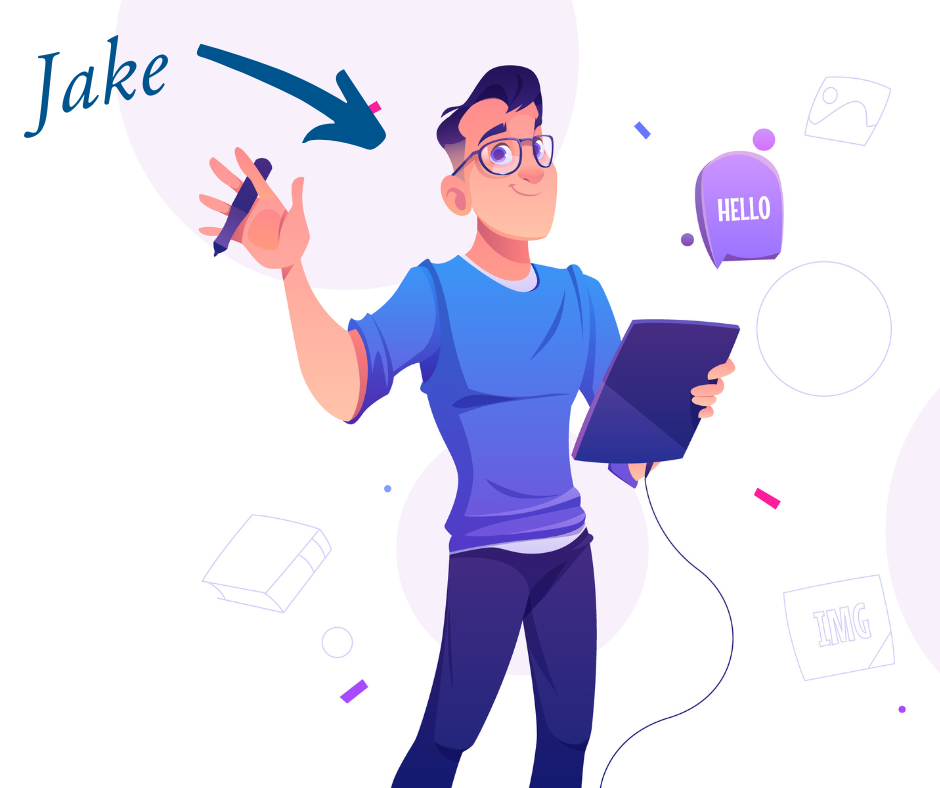 How does Jake solve HAVE 
He starts by thinking about all his dreams and focuses on ones that resonate most with his concept of success. These are likely to be very personal in nature and, for Jake, include a holiday home somewhere sunny, more time to spend with his kids and a racy motorbike. 

Having a look at the numbers, Jake's worked out that his business needs to generate a turnover of £1.5 million per annum to financially support these dreams. 

He then lists out all those dreams, writes them down and begins to visualise his idea of success.  

Jake keeps these dreams very visible where he can see them daily, whether that be on a PowerPoint slide, a printed vision board or the lock screen image on his phone.  

And to keep the dreams alive in his mind, he regularly reminds himself of his vision of success and finds this sets his mind constantly towards what he wants to HAVE. 
How does Jake solve DO
Here is where creating an action plan really comes into play. 
Jake knows that to reach one of his objectives, namely to grow his business to a turnover of £1.5 million in 12 months, he needs to generate more sales, make more profit and invest in three offices for his team expansion.  

He develops an action plan that sets out step by step what he has to accomplish to generate more sales (invest in marketing), increase profit (raise prices by 15%) and expand into new offices (start to look at suitable premises and assess costs). 

He sets goals and incorporates milestones into the action plan to allow him to track his progress.

Jake begins to take action; he starts to DO by following the plan. 

Finally, he monitors the plan consistently, adapting it when necessary to ensure he stays on course for success.  
How does Jake solve BE
BE can be the hardest part of the equation to solve because it is very focused on Jake as a person and is probably the area where the most change needs to happen. 
It's important to realise this isn't about Jake working harder; it's about him understanding what his future self needs to look like if he intends to succeed in his plan – who does he need to be to fulfil his goals.

By identifying whether he needs to improve skills or gain new knowledge, he can really focus on closing those gaps. For example, to increase sales, he plans to invest more in marketing, but to do that effectively, he knows he needs to become a better marketer. So, he reads more books on the subject or attends relevant workshops and then, crucially, implements his learnings into the business. 

In addition, Jake begins to make the changes needed to BE the person capable of delivering on his goals by learning more overall, engaging with like-minded people and following industry leaders who have experiences to share. 

Jake embraces the change and finds that the more he invests into the BE part of the equation, the quicker he accelerates towards the HAVE because as he grows, then so too does his business. 
Now that Jake has very effectively solved the formula for success, I'm really interested to find out what aspects of the BE x DO = HAVE formula you feel that you need to change, improve or enhance in terms of your own individual plans to achieve the goals and dreams you've set for yourself. 
Martin Baillie is a Business Coach and Growth Specialist at ActionCOACH Bury St Edmunds, committed to working with business owners to create sustainable, viable, profitable entities within the local community.
We find that most business owners are experts in their industry but not in business. Our ActionCOACH business re-education coaching programmes help business owners to understand all aspects of business so they can build a profitable, sustainable business that works without them.
Contact Martin Baillie, ActionCOACH Bury St Edmunds now on Tel: 01284 334099. You can also follow him on LinkedIn @https://www.linkedin.com/in/businesscoachburystedmunds/ and on Facebook @ActionCOACHBuryStEdmunds.  
Resources:
https://www.uopeople.edu/blog/dreams-vs-goals-the-differences-that-matter
Image credit: @upklyak