How Magic was Born – the value of inspirational leadership
Identifying leadership can be a very subjective process. What inspires and motivates me may well be the polar opposite of what drives you to be the very best version of you you can be. But will be likely is that what inspires you is closely aligned to your values. It speaks volumes about how you approach life, view opportunities, and manage your relationships with others. In an ideal world, your professional values, or persona, matches your personal persona. But this is not always the case, whether intentionally or just because people lose touch with their inner guide, for want of a better word. 
Having conflicting personas can be exhausting, and confusing. It leads to miscommunications, misunderstandings, and ultimately dissatisfaction with your lot in life. 
This is why one of the first things I do as a business coach is to ask my clients who they most admire, who they aspire to be like and why? Knowing this, and then exploring how they apply that inspiration to their lives, helps to align personas and determine goals for success. Most importantly, it shows how to motivate them to achieve what they desire. 
"All our dreams can come true, if we have the courage to pursue them."
A little inspiration goes a long way.
Recently, the tables were turned. I was asked who I considered my headliner inspirational leader. No thought required – Walter Elias Disney, of course. 
And that's not just for the magical movies. Or the fact that he was a true pioneer in the animation industry. Or even founder of the Walt Disney Company.
It's because, for me, Walt Disney personifies all the traits of leadership that I believe create great companies, and develop great people. Dreams may be at the heart of it, but it is the shell around that heart, the structure of the organisation, essentially, that makes those dreams come true. 
And the shell was built on the foundation of Walt Disney's firm values and clear vision, all backed by incredible energy and action. 
To use the man's own words, "the way to get started is to quit talking and begin doing."
Exactly what I, as an ActionCOACH, advocate each and every day. Being what you want to be, energised by action, will allow you to have what you want. 
Or in simple terms: Be x Do = Have.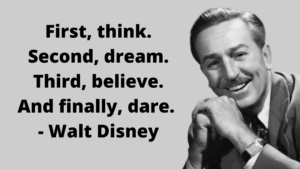 How Magic was Born 
Besides being a man of action, Walt also instilled the following principles into the Disney powerhouse and its family of employees. These all connect back to his four main concepts of To Dream, to Believe, to Dare, and to Do (you can read more about this philosophy here): 
Commitment to a defined set of values

: namely innovation, quality, community, storytelling, optimism, and decency. Not only are the values well defined, but they are also the benchmark against which they recruit employees. This process ensures company culture alignment right from the get-go. In addition, employees receive a full day's training on the Disney traditions, further embedding the learned behaviors and habits intended to 'make everyone's dream come true.'

Lead by example

: Disney, himself, was known to walk around Disney World picking up any litter he spotted on his way. And the legacy of this remains today, with executive management often seen tidying up odd stray pieces of rubbish. 

Guest service is paramount: consistency of the Disney experience is key here. Guests have expectations, and employees are well versed in how to meet those expectations in every way. As a guest, the experience is wonderous and appears seamless. But behind the scenes, there is fanatical attention to detail. Complaints are viewed as opportunities for innovation, a chance to improve the magic even more, rather than criticism.   

Their purpose is simply to make people happy

: everyone is responsible for providing the best Disney guest experience, no matter their role within the organisation. Fulfilling this purpose comes naturally, such is the dedication to the company values. Employees embrace the Disney culture every day, breathing its spirit into each interaction they have with guests at every stage of their journey. 

Preservation of the Disney brand and magic

: despite the longevity of the company, the brand has stood firm on what its purpose is. It may have diversified, grown, and adapted with the times, but its raison d'etre remains to create happiness. Proving magic truly is timeless.  
Disney gave himself wholeheartedly to his dream. He dared to think, he dared to dream, he dared to believe, and finally, he dared to take action. And thus magic was born.
Who has been your greatest influence as a leader? As your team too, you may be surprised by the answers. And even a little inspired……….